Volume 1: Issue 3
By: Ali, age 11, NC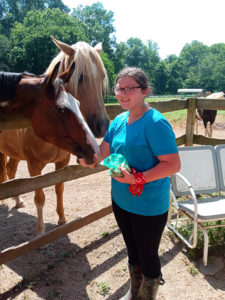 Every summer, I spend my time mucking out stalls, shoveling gravel, and scrubbing horse troughs. It's hard work, but the reward is amazing. I get to ride and groom and love the horses at Crystal Creek Stables. It is the best part of my summer.
I have been obsessed with horses for years. They are majestic, playful, and intelligent creatures. The horses at the stable I go to are well trained for new riders. But that doesn't always make them easy to work with. Sometimes they test you. If you aren't sitting with the right posture or walking fast enough when leading a horse, they can think they are the leaders. They may try to graze and leave the trail or even nip you to get your attention.
Horses are like people; they have their own personalities. When you spend time with a horse, you create a bond and friendship with them. You have to trust the horse you're riding, and they have to trust you to lead them. A rider is responsible for the horse's wellbeing. You have to groom them, and pick their hooves, apply their medicine, and make sure you keep the gates secured so they can't get out. It can be a challenge, especially when you are a newbie, but it is a lot of fun. I look forward to summer camp at the stables every year.
Barn life also teaches you a lot of important skills that don't have anything to do with horses. We have to work as a team to take care of the horses and help other riders. You always need to keep a "barn voice" so that you don't startle the horses; it helps you learn to control yourself, especially when you see a spider in your helmet or a snake in the tack room! And it teaches you to enjoy working hard physically and how to appreciate technology-free days. Some days, the weather can be bad or you can be having a bad day for any other reason, but everything looks brighter when you get a chance to saddle up.
There is nothing better than spending your summer at a stable. I hope everyone gets a chance to experience some time around horses.
Dear Ali,

What an inspiring story! As someone who totally freaked out the last (and only) time I rode a horse, you make me want to give it another try.

I love how you share that while working with horses is fun, it can be a lot of hard work, too, and I agree that working hard often makes the reward even better. I've found that to be true more times in my life than I can count. I've also found that while rewards are pretty great, the best prize of all is feeling proud of yourself for a job well done.

I also think it's really powerful how caring for horses has taught you about gratitude, teamwork, responsibility, and so many other important life skills. Like caring for horses, life can be challenging sometimes—it can test you, trick you, and yes, sometimes even leave a surprise spider in your helmet (!!!)—but if you keep those skills close, I have no doubt that you'll rise to each and every challenge that comes your way.

Keep on riding (and writing), Ali, and thanks for encouraging me to get back on a horse!

—Abby Cooper, author of several middle-grade books, former teacher and librarian, and cupcake lover