Volume 1: Issue 3
By Jackie, age 15, CA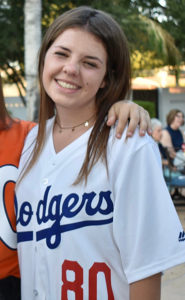 On June 1, 2005, a new story was born in Los Angeles. No, it wasn't by Stephen King or J.K. Rowling. It belonged to me, Jacqueline Marie. My story is not one thing. It is my struggles, my triumphs, and my passion for leadership.
Chapter One: Phoenix, Arizona
The Thanksgiving sun set; my adoring mother put six-month-old me snug into bed. As she gave my older sister Lexi a bath, she heard a weird noise coming from my room. When she entered, she saw me seizing in agony. Panicked, she raced me to Phoenix Children's Hospital. That's where we received the dreadful news: I was born with epilepsy. A night of terror ruined a day of thanks.
Chapter Two: Years of Sports, Hospital Visits, Medication, and Seizures
From the time I stepped on my first soccer field at three, the adrenaline from being on any type of field kept me going. It was the only place where it did not matter what was wrong with me, I could still play. And I was great at it. Every goal scored or basket shot kept me sane. But through it all, my mom worried how much time was left. When I was eight years old, I learned that I was eligible for brain surgery to end my seizures. I was too excited to care about the risks or how long I wouldn't be able to play sports because I knew that I would finally be a normal kid.
On January 24, 2014 at UCLA hospital, I endured nine hours of intense brain surgery. With five days post surgery behind me, over 100 staples, and one heck of a swollen face, it was time for a check up. The doctor told me to lift my right side. I did. He told me to lift my left. I tried and tried, but it felt like a bowling ball was on it. The doctor said it was still a little swollen—it didn't seem serious. Ten days post surgery, at home, staples removed, my mom realized something was wrong. The left side of my face had swollen and I couldn't move it; I was immediately driven to the hospital. Several tests later, results showed I had suffered a stroke. My world went dark, and my motivation to do anything halted. I now had weakness and tremors on the left side of my body.
My dream of being a professional athlete slipped through my fingers. But I was determined to fight.
Chapter Three: A Time of Greatness
Although I was still not as good as I used to be two years post surgery, I had relearned to play all my favorite sports and adapt to my new life. My struggle to get back to sports was hard. It was like you were teaching a baby to walk again, but as an eight-year-old. The stares and looks didn't bother me because I wanted to be back on the field. But it wasn't the same. Everyone was better than me. I felt weak and insecure. Watching the 2016 Olympics, I saw an ad of disabled athletes playing sports. I thought, "Those are people like me." For the first time in years, I didn't feel alone. In January of 2017, I went to my first ever para track and field clinic and discovered javelin, shot put, and discus. For the past three years, I've played adaptive sports and set two national records in track and field.
Chapter Four: Being a Good Community Member
I knew there were many kids like me whose love of sports was stripped away in a blink of an eye. I wanted to support them. I am now a track and field coach at my old middle school and a student ambassador for Angel City Sports, a sports organization for disabled children. I teach other Paralympic athletes, like Willie, how to throw the javelin. Willie was outside in front of his house in Inglewood when he was shot by a drive-by shooter and paralyzed from the waist down. Now, he and I speak together about how our disabilities are blessings in disguise. We may have one less ability than other kids, but we can still change the world.
I am still writing my story, working to get onto the Summer 2021 Para Junior World Championships Team and preparing for my sophomore year. I hope to overcome all the obstacles I face in life and show I can always beat the odds.
Dear Jackie,

Thank you for sharing your amazing story of acceptance, belief, challenge, engagement, and resilience! All of which it sounds like you have decided to "play forward" to inspire others!

As you wrote so eloquently, the biggest value in sport participation is using it to "figure yourself out"—what makes you tick, what gets you engaged and challenged, and what makes you feel empowered and happy. Your story reminds all of us that our outcomes—be it in athletics, academics, music, theatre, arts, or relationships- are driven by and impacted by how we think about ourselves and our situations.

In working with elite and pro athletes to have empowering sport experiences where their outcomes match their capabilities, we find that it is literally only a 3% difference in performance between the athlete who wins the gold medal at the Olympic games and the athlete who does not make the team. Usually, the person who rises to the top is the one who can identify the actions, thoughts and behaviors that contribute to their positive results and you, Jackie, have done just that, developing a solid foundation of emotional skills upon which all of your athletic, academic and mentoring talents will continue to blossom!

Jackie, while I can't promise you that "figuring yourself out" guarantees you will make the Junior World Championship Team, I can tell you that it gives you the best chance while allowing you to continue to fully enjoy and embrace that process. Keep being you? (and let me know when you make the team!).

Warmly,

Caroline Silby, Ph.D., internationally recognized sports psychologist and author of Games Girls Play: Understanding and Guiding Young Female Athletes, Maryland