Volume 1: Issue 2
By: Carolina, age 15, U.S. Military Base in Colombia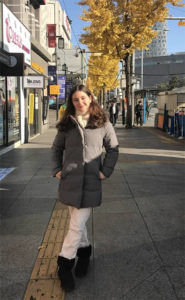 It seems that change has become our new constant, uncertainty our new reality. Never had I thought that such basic things would be taken away from us. From the day we are born, the first show of affection comes from a kiss, a hug, a smile; those aspects are integral to our communal identity as humans. They seemed to be something so rooted in society that nothing had the power to take them away. And then the storm came.
Now the only opportunity I get to appreciate the wind on my face, the rustling leaves, the dewdrops on the flower petals, is when I walk my dog.
As I continue along the never-changing route, a man runs past me, also enjoying the taste of normality that the outside provides. I smile, but strangely, I get no response. On the other side of the street, I spot a fellow classmate and smile, yet once again, I receive the same eerie stillness as a response. My face became a sauna, with the protective mask trapping all of the heat and bringing out the sticky sweat. Suddenly, as I wiggle my face to ease the itchiness, I feel my eyes crinkling, and it hits me. My smile was hidden. The salutatory gesture that I used as a simple show of compassion seemed to be trapped behind bars, prisoner to the invisible beast that put the world to a halt. I had never reflected upon the power of a smile, what it communicates, how it connects us to others and makes our community tighter. Now, we are only left with the shadow of a smile, our scrunched eyes. We hope it is enough to show people around us we care, we are present, and we wish we could say our usual hellos with a smile. They say that eyes are the gateway to the soul, but I have realized that smiles are the keys that truly open that tunnel.
I am proud to consider myself a veteran of change. Having lived in five countries and moving on to my sixth, change is familiar—at least I thought it was. Joining a call with my friends, I am met with suspicious silence and cryptic looks.
"What's wrong?" I ask, waiting to uncover the joke that was undoubtedly the foundation of my friends' strange gazes.
"I'm leaving," my friend says. Out of our closely-knit group of three, two of us were moving to different countries at the same time.
Confused, I respond, "Yeah, I know. Are you starting to feel the 'ending' jitters?"
"No, you don't get it," she retorts. "I'm leaving in two weeks." The same silence I was greeted with now takes over once again.
"My parents bought the first airplane ticket they could find. We don't know when they are going to close international borders, and we can't risk being stuck here." I remember earlier that day the interminable phone calls my parents made, trying to figure out a way to get to our next destination. Moving had always been a challenge. However, it had never been such an intricate puzzle in which one had to strategically place the pieces according to the opening of international borders, flights, and personal safety.
"We aren't going to see each other again, are we?" No response. I didn't need one.
Endings can be new beginnings; but sometimes, they are merely endings, and that's what this was. I wished I could go and hug her, tell her how grateful I was for her friendship in person, but the strict quarantine imposed by the government was the ultimate dead-end. I wasn't prepared for craving an inevitable goodbye and not being able to have it. We run from change, from roadblocks, from dead ends, but I needed the closure, the hugs, the "I love yous," and the "we will meet agains."
This year has been one full of transforming hellos and goodbyes. We have all been forced to reflect on what we have but don't appreciate, on what we have lost but not let go, on what has changed but will stay with us forever. Nevertheless, we have come together, created strong bonds of empathy and understanding. From appreciating the newfound heroes, the essential front-line workers, to sitting together mindfully at the dining table as a family, we, too, have evolved. That evolution and eagerness to take care of our loved ones is something that will never be taken away from us, no matter the battles we have to fight.
*Carolina is a published author! Her book, The Upside of Being Down: The Life of a Teen with Anorexia, which she wrote when she first became a teenager, was released by Morgan James Publishing in June 2020. It's available at your favorite bookstore.
I loved reading this reflection, I can feel the emotion and pain you are feeling! Each time we move, I always say "see you later" to friends I have made with the hope that this isn't goodbye, and one day our paths will cross again. But sometimes, as you know, "see you later" is actually "goodbye," and it is so hard. As a military family, each summer seems to be full of see you laters. Full of hugs and sometimes tears and last minute memories. And this year, it has felt as if we have been cheated. So many friends I saw in February have now moved on to the next assignment without the ability to gather together again.

It has been hard for me, but for my kids, it is even harder. I have always wondered how they see the world on the side of each move or goodbye of friends, and hearing your story reminds me that the emotions I feel are not so different from that of my children. Thank you for sharing your experience. It reminds me how hard saying goodbye is, not only on me but my kids as well.

—Amanda Huffman, Women of the Military Podcast, former Air Force officer, Fairfax, VA (DC area)