Volume 1: Issue 2
By Mary Grace, age 13, somewhere on the water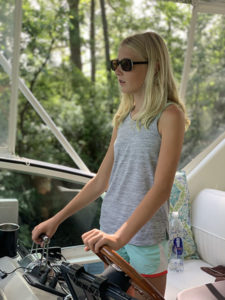 A lot of kids are working remotely for school this year, and I'm no exception. But in my case, my school is REALLY remote. I'm living on a boat!
In May, my family and I moved onto a boat full-time and began traveling around America's Great Loop. Our journey took us up the East Coast and through the New York Canal System. Now we're in the Great Lakes, and we'll eventually come down the rivers and end up in the Gulf of Mexico. To complete the Great Loop, we will return to where we started in South Georgia.
Everyone asks me what it's like to live on a boat. That's a really hard question to answer because every day is different. Some days, we explore new places. Other days, we travel by boat. And some days are even a lot like being in a regular home because we have to do school work or chores. Every once in a while we do all of those things!
Living on a boat can be a little bit of a challenge, but it's really cool, too. Here are my three favorite things about our life on our boat:
First, I love how there is so much marine biology involved. As long as I can remember I have dreamed of becoming a marine biologist (Thank you, Shark Week!) Now, this experience is slowly turning that dream into reality. My little brother likes to fish, and I have documented every animal he has caught (grass and the boat don't count). I can't wait to see how this experience will enhance my career.
I also enjoy seeing new places. Although it is sometimes odd to wake up and have to think about where I am, I love the variety. Travel is really a passion for my entire family. Exploring the different cities is educational and exciting. This summer we went to Jamestown, which was very special for me because I'd studied Jamestown in History the year before. To see it in person is something I won't forget.
And last, I like to spend time with my family. I will admit it's hard to be with each other 24/7 in a small space. Also, we do sometimes argue over little things, like who moved something on the boat or who is making too much noise in the morning (both of those are always my little brother!) Nonetheless, I love it because of all the great memories we make together.
Sometimes, I miss seeing my friends and neighbors. Or I miss my yard and having a big bedroom. But when I think about all of the experiences I've gained, it outweighs anything I miss. We've made new boat friends, and I almost always have a place to swim.
You can keep up with our family's adventures on our social media, @momwithamap, or on our website where we post blogs about all the fun things we get to do: www.MomWithAMap.com.
Mary Grace,

The opportunity you have now to embrace change every day will change the way you see the world for the rest of your life. You see how people are different and the same from one town to the next, you foresee this as an opportunity for your future instead of an obstacle to a "normal" life, and you are embracing that truly being home is carried within yourself. You have your priorities set in the right direction, wherever the water takes you.

You are so far ahead of where I was at when I was your age. My dad was a professional fishing guide, so I spent my summers on a boat. I was always so focused on what my friends were doing and what I was missing out on. I know I missed much of the wonder, learning, and quality family time you are absorbing. 

Always remember how experiences that build us can be a source of empathy. When we see the world from a different view, we can understand how others might, too. I can't wait to see you being consulted during Shark Week as a marine biologist with extensive expertise in that field!

And make lots of noise when you can; girls can be noisy, too!

—Katherine Young, Professional Creative and author, best known for her globally viral Girl's Life meme, calling out gender bias in media and her new book How to Discuss Politics Online.

*GirlStory thanks Katherine Young. Her meme referenced above was the first nudge that led to the idea of creating GirlStory magazine.